Don't miss out - Sale ends in

1day 15h : 26m : 9s
Product Description
One layer for now and one for later—this clever end table's double-stacked design is as useful as it is attractive.
Why Joybird?
- Unlimited furniture delivery for one flat fee
- Free Returns
- 365-Day Home Trial
- Lifetime warranty
- Buy direct from manufacturer
- Get a
free swatch kit
to help you decide
@joybird
Take a look at how our customers styled their spaces with this product.
Product Specifications
Overall Dimension
32

"w x

28

"d x

22

"h
see more details
Construction Details

Frame

Your Choice of Walnut, Maple and Cherry Veneer on a Plywood core for added stability, strength and smoothness.

Legs

Combination of solid Veneer Cherry, Maple or Walnut and Plywood. Corner bolted for highest quality.

Finishing

2 days in sanding and finishing departments highlight the detail and quality of each unique table.

Assembly

None
Product Care

Dusting

Dust your furniture regularly with a soft, dry, untreated cloth.

Moisture

Moisture and heat can damage any wood finish so it's important to protect your furniture by using coasters. Always wipe up moisture promptly and dry with a soft cloth.

Marks and Scratches

Avoid dragging sharp or rough objects across the surface of your wood furniture. Use felt pads, trivets, coasters and placemats when possible.

Spills

Gently clean with a soft, damp cloth and dry with a soft cloth.
Solid Style
How can one table hold so much style? Only with the best quality materials. The Yosano features a solid wood base for maximum support, plus a classic cherry, walnut, or maple veneer for a tabletop that is tough and timeless. Plus, the strong structure will keep safe any items that you tuck within the Yosano's recessed shelf.
Create Yours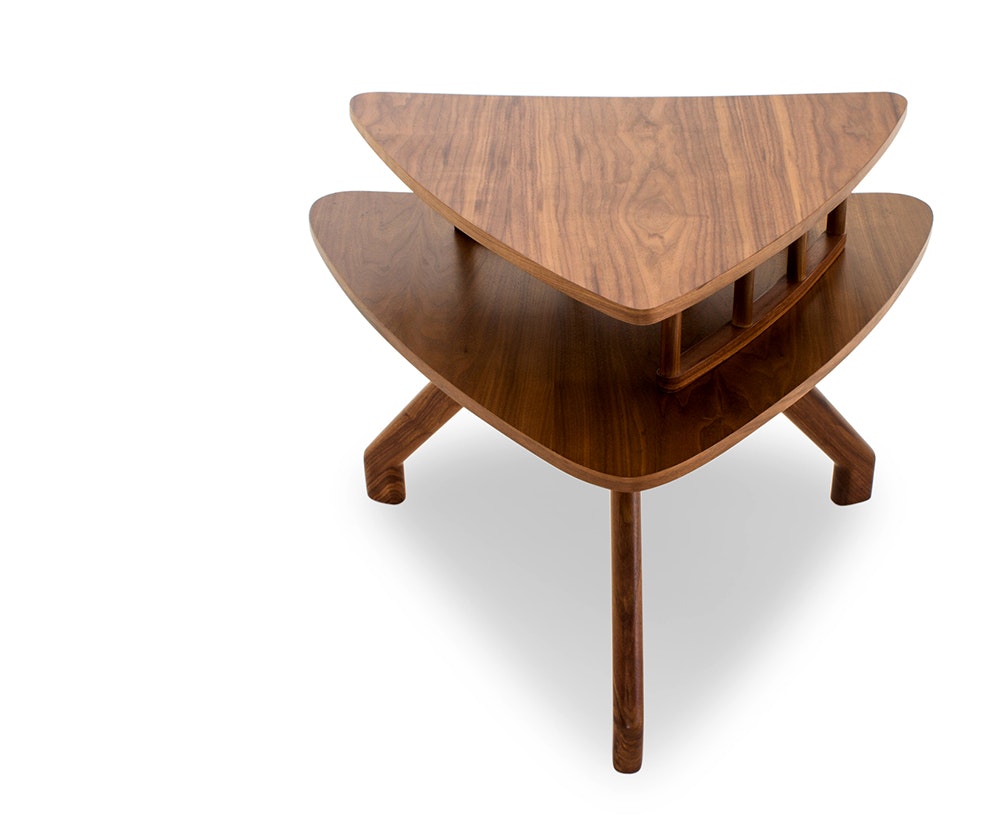 Bringin' It Back
Everyone knows that boomerangs always come back, and the boomerang motif of the 1950s is no exception, as proven by the endlessly fabulous Yosano. The table celebrates this unique shape of yesteryear in both of its levels, which are perched upon an angled three-legged structure. Because nothing is better than heaping style upon more style.
Create Yours
The Ultimate Showpiece
Let your unique sense of style shine by bringing home a piece that's equally exceptional. From its retro shape to its unusually high quality, the Yosano is everything you need to put your own personal mark on your living area. Make a statement that will resound in your home for years to come.
View Photo Gallery
Create Yours
Features
Responsibly Sourced Wood
We promise never to build your furniture with sub-par particle board. Only the best quality, responsibly sourced wood goes into our work.
Handmade Quality
We're obsessive about quality, meaning every inch is thoughtfully assembled and carved inch by inch.
Top-Notch Materials
Let the kids and pets on the furniture, our top-notch excellent materials are incredibly durable and free of harmful chemicals.
Shop by Color
With over 100 colors of fabric and leather to choose from, go ahead and brag to your friends that you're the designer. We won't stop you.
See It In Every Color
Create Yours
Free Swatches
Request one of our free swatch kits and bring the showroom to you. See, touch and experience them for yourself.
SEND A SWATCH KIT
Customer Reviews
Read real customer reviews and see what they're saying
Read More Reviews
You May Also Like
Other products that customers have enjoyed.
Saving the rainforest, one tree at a time. Planting trees with every purchase, we're committed to making a healthier, more sustainable planet. 166,247 trees planted